Features
• 100% Australian owned and manufactured
• Made to order
• Uses locally sourced Australian White Cypress plantation timber
• Natural termite resistance (no treatment required)
• The highest durability rating available (durability class1)
• Used For Exterior and Termite areas
• Very low and uniform shrinkage
• Outstanding structural stability
• Premium "A" grade appearance and finish (as standard)
• Laminated Beams and Posts available
• GLTAA endorsed (AS1328)


Durapost incorporates the true heartwood for an ideal in ground and structural exterior post. (See Durabeam ® wood properties)
Durapost is apart of the Durabeam ® range using the same plantation Australian White Cypress and unique patented techniques Durapost and can be manufactured to any size or length up to 300mm and come available in both solid and laminate.


Durapost® 16 Year In-ground Field Testing
Test samples comprising 100 x 100mm glued laminated Heartwood Cypress post. 600mm in-ground left for 16 years untreated and unprotected.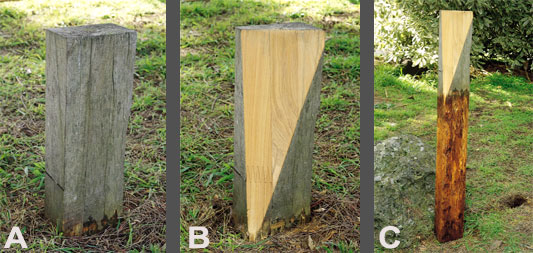 A. Post in ground showing slight sign of end checking and surface weathering. Post imbedded in-ground 600mm with 300mm exposed above-ground.
B. Post showing angle cut to reveal wood in perfect condition. Note: dear timber and intact finger joint in centre laminations.
C. Post removed from ground displaying some discoloration however the wood has remained in excellent condition, with slight collar damage around soil level due to gardening and weathering.

Durapost are perfect in the application of pergolas, fencing, verandah and alfresco areas. They offer a much more appealing A grade finish to the traditional treated pine post.
Durapost onsite care - We recommend you use Cutek CD50 Timber preservative with the "Cypress" colour-tone as part of your maintenance schedule to maintain the natural colour for longer and provide outstanding long-term dimensional stability.
Durapost Specifications
Available in the following sizes:
AUSTRALIAN WHITE CYPRESS
Depth
90 x 90mm
115 x 115mm
130 x 130mm
150 x 150mm
175 x 175mm
200 x 200mm
250 x 250mm
300 x 300mm